Greetings from Robbi and Jim
A warm welcome to all of the members of our Aroma Tours Newsletter in over 35 countries around the world.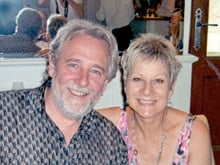 Robbi and I have been reflecting on the many wonderful moments we have shared with our guests during this, our sixteenth year of Aroma Tours.
What a blessing it is to be living our passion in the company of delightful people from around the world, with new friendships made and old ones rekindled.
Our thoughts are now turning to next year's season and we are thrilled to see that it is already off to a flying start with one private group and several other tours already almost full.
We look forward to sharing many more delightful moments with our Aroma Travellers next year and invite you to visit our information request page for the latest details.
Aroma Travellers Our Thanks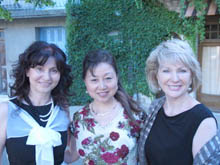 Without doubt, one of the main reasons that we continue to grow and flourish, is the on-going support we receive from our past Aroma Travellers.
This year we enjoyed the largest number of returning guests we have ever had, making almost 28% of our total numbers. For Robbi and myself, it is such a great delight to be welcoming back so many good friends.
We would also like to give our heart-felt thanks to all of you who continue to support us with your kind words and referrals as you spread news of our tours and retreats amongst your friends.
Robbi and I also greatly appreciate your wonderful words of thanks, it means so much to us to know that we have shared a special time with you during our journey together.
Balinese Grounding Ceremony - Robbi Reports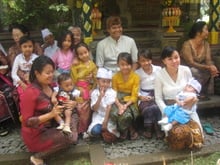 It is said that in Bali, there is hardly ever a day without a ceremony of some kind and if you include all of the life cycle celebrations such as baby ceremonies, puberty rites, weddings, cremations, temple festivals, the full moom festivals in April and October, as well as the high holy days of Galungan then this certainly seems to be the case.
The ceremonies can be either private or public and to attend it is appropriate and respectful to wear Balinese dress, although it is unnecessary for tourists to be formally dressed and a sarong, sash and covered arms are sufficient.
All Balinese ceremonies are preceded by a purification ritual to banish any evil spirits before the divine powers are addressed. This is done with offerings, holy water and hand gestures.
The Manusa Yadnya are the rites of passage ceremonies which are integral to Balinese life from conception to just before death and include pre-natal rites, birth ceremonies, the 12 day, 42 day and 3 months' old baby ceremonies, tooth-filing, and marriage.
This year in between our Bali Women's Retreats, Sally and I were fortunate enough to be invited to attend our hosts' adored first grandson's 3 month "Tigang Odalan" ceremony. It is quite a grand event and is attended by all of the relatives and neighbors to mark the time when 'baby' is allowed to touch the ground for the very first time.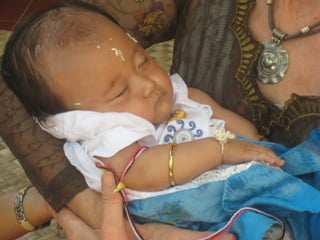 Prior to Tigang Odalan, a newborn's feet are not permitted to touch the earth -- even for a moment -- as the Balinese believe that a newborn child is very susceptible to the influence of black magic which they associate with the lower earthly elements. As a result, Balinese babies are carried everywhere up until the grounding ceremony and do not leave the family compound.
Tigang Odalan is the first big ceremony in the life of a Balinese and takes place in the family compound where a baby ceases to be considered as a divine creature and attains a normal state and may now be taken into temples. Babies are not considered to be "human" until this time. It is on this day that baby first touches the ground and it is described as a return to the earth.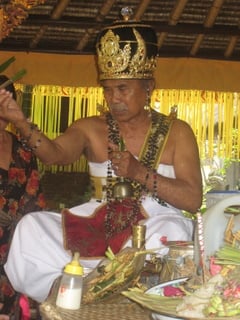 The ceremony we attended took place in the morning with a Brahman priest intoning chants for several hours and dedicating offerings to the Sun God and the Five Great Elements of Demons. The priest came from a village several hours away and is highly regarded. Once the baby had been blessed with holy water by the priest and both parents also purified with holy water and prayers, they picked up their son and walked him with his feet on the ground, clockwise around a bamboo chicken cage three times which represented the passage of birth, life and death. The priest at this time also gave the baby his true name, as when a Balinese child is born, he is believed to be the reincarnation of an ancestor.
There was much excitement throughout the whole ceremony which continued on for many hours, accompanied by the hypnotic sounds of the gamelan orchestra with many elderly family members chanting the Ramayana story from little booklets written in Sanskrit. One gorgeous old auntie kindly let me look on so that I could happily chant away too. I did give it my best shot! The family compound was highly decorated and laden with offerings brought by family, friends and neighbours. Everyone was colourfully dressed in all their finery and they were so proud to be a part of this auspicious occasion.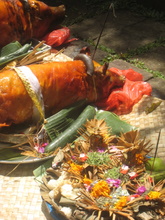 Lunch of suckling pig, chicken sate, gado gado, tofu chilli vegetables, long green bean salad, fresh mango, jackfruit and papaya slices and coconut pancakes filled with banana was provided for hundreds of guests. In the evening there was a Wayang Kulit ( shadow puppet) performance to which the whole village was invited it seemed. The Puppeteer we were told was the most famous in all of Bali. It was fantastic to see the Balinese roaring with laughter as the puppet show made fun of their culture in a very humourous way.
Sally and I were blessed to have been part of this incredible celebration, truly a feast for all our senses.
If you would like to view more photos of this beautiful event, they are included in our memorable photos pages below.
Memorable Photos of Our 2011 Adventures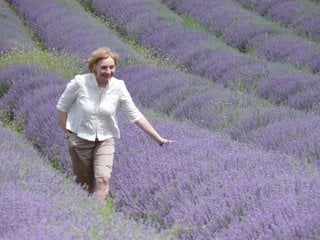 One of the best ways to enjoy the spirit of our adventures is by taking a peek at a few of the photos we have taken during our Aroma Tours' 2011 adventures.
We have added 4 new pages of photos including some of the lovely images contributed by our Aroma Travellers, which are a nice way for you to get another perspective on the delightful experiences we shared together this year.
We look forward to adding more beautiful photos to our archives and to sharing them with you in the near future.
As always we also invite you visit our other Photo Galleries Pages to enjoy more of the 100's of other lovely photos of our aromatic adventures.
Delights of Bordeaux and Dordogne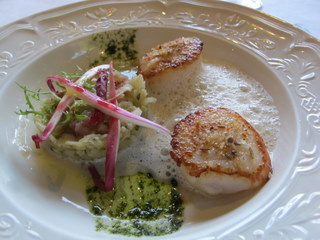 Our Flavours of Dordogne Tour which was held for the first time this year, was a resounding success, with many delicious and memorable moments shared with our guests.
We started well with a visit to one of Bordeaux's most prestigious Grand Cru Classe wineries to enjoy a tasting of their world renowned wines, followed by a wonderful gourmet meal in a small family owned restaurant nestled in a beautiful perched village.
Our time together included many wonderful gastronomic meals, however, one of the most enjoyable for me was in a tiny newly opened brassiere owned by Raphael and his lovely wife Yvette, who also happened to be the chef. I am a huge fan of duck and though I knew that the food was very good, Yvette produced for us one of the finest examples of magret de canard [with a creamy cepe sauce] that I have ever tasted.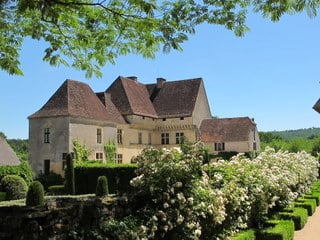 In addition to savouring many other gastronomic delights it was also a joy to explore the unspoilt beauty of this fascinating region with its sweeping river valleys, fortified medieval chateaux, colourful markets, magnificent gardens, pre-historic sites, spectacular caves and some of the most beautiful villages in France.
It will be our pleasure to return to Dordogne next May and we are greatly looking forward to sharing many more delightful moments with our guests in this glorious region.
For more details please visit our information request page and if you would like to reserve your place please visit our booking request page
Guest Comments From Our 2011 Adventures
One of the great pleasures for Robbi and I after each tour season is receiving messages of thanks from our Aroma Travellers.
We have had a lot of fun compiling a few photos of the lovely people who have joined us over the years, which we have used to accompany our guest comments pages. It is wonderful for us to recall the many delightful moments we have shared and we hope that you enjoy taking a peek, starting with Guest Comments 2011

This just in:


Hi Jim and Robbi, great to hear from you. I have been thinking a lot about our wonderful trip to Turkey. Once again thank you so much - it's like going on a trip with friends now after all this time. I hope that summer after next I will be able to do the Dordogne or Spanish trip with you.
~ Kathy Dobbins Canada
Our Current Booking Status
All is now well under way for next year's tour season and Robbi and I are thrilled to once again see the wonderful response to our offerings with one tour taken by a private group and several others already well on their way to being fully booked.
Our booking status at the time of this newsletter is:-
Robbi and I are looking forward to the season ahead and hope to have the pleasure of your company next year.
For detailed information about any of our tours please visit our information request page and if you would like to join our Aromatic Adventures next year, we invite you to reserve your place by visiting our booking request page
It is our pleasure to assist you with any questions you may have and we invite you to get in touch with us either by email at info@aroma-tours.com or by phone on: +613 5331 3254 (afternoon/evening USA time zones, mornings from other countries).
Please note
Our up-to-the-minute booking status is available via our calendar page
If the tour you would like to attend becomes fully booked you may like us to add you to that tour's waiting list as sometimes we receive late cancellations or transfers.
The Whirling Dervishes of Turkey
Persian philosopher, mystic, and poet Jalal ad-Din Muhammed Rumi, whose followers and son founded the Sufi order, was born in 1207 in Afghanistan and came to Konya in central Turkey in 1228.
Mevlana, as he's called, taught a version of Islam that emphasizes tolerance, patience, and attaining happiness through love, and the unification with God through constant movement that reflects the movement of the earth and the universe. The word "dervish" means "doorway to God", and their ritual dance, called "Sema", literally means "the listening", and symbolizes a mystical journey of the soul and mind from which the dervish emerges as a better person.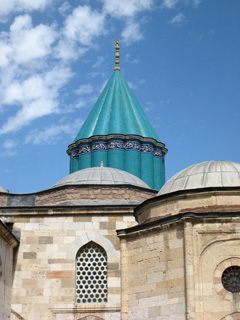 The Whirling Dervishes played a vitally important part in the evolution of the Ottoman culture and were held in high regard by many of the Ottoman Sultans including Suleyman the Magnificent, who constructed a whirling hall for them as his gift. This hall stands next to Rumi's mausoleum in Konya.
This final resting place of Rumi is a sight to behold - a richly decorated chamber with chandeliers, Arabic script on the walls and intricate mosaics inlaid with gold leaf - it never fails to move us with its beauty.
The influence of the Whirling Dervishes on classical poetry, calligraphy and the visual arts was profound but music was perhaps their greatest cultural achievement. Rumi and his followers wove music into their rituals as an article of faith and the meeting places of the dervishes consequently became academies of art, music and dance.
The Whirling Dervishes believe that the dance and the music ceremony represents a spiritual journey which leads them closer to God, so that they may love more fully and be of service to all. This journey is symbolized with the movements and their attire.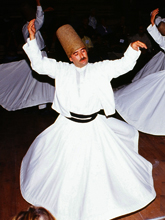 The ceremony of the Sema usually includes 12 musicians playing traditional Turkish instruments and 12 dancers. The performance begins with 3 or 4 pieces of music and is then followed by a 4 part whirling dance.
The rituals of the Sema are among the most exquisite ceremonies of spirituality and the whirling of the dervishes is an act of love for mankind and a drama of faith. It has a highly structured form within which the gentle turns become increasingly dynamic as the dervishes strive to achieve a trance-like state.
The music that accompanies the whirling from beginning to end is quite mesmerizing and the sounds are hauntingly beautiful. The chanting of poetry, the rhythmic rotation and the incessant music all create a synthesis which is said to induce a feeling of soaring ecstasy - a mystical flight of the soul.
One of the most memorable experiences of our Turkish Aromatic Odyssey occurs during our stay in Capadoccia. Our unique hotel is nestled in caves and we invite the dervishes to perform the Sema ritual for our group there. After dinner we sit on the roof top terrace, sipping Turkish tea and across a tiny ravine are caves beautifully lit with night lights, in which the dervishes perform their ritual dance. Firstly, the musicians dressed in black, playing a reed flute, a drum, and a one-string violin begin the ritual melodies that are somewhat dissonant and monotonous, yet hypnotizing in their intensity. Then the dervishes appear wearing white skirts covered with dark cloaks and brown, conical hats that symbolize tomb stones and the death of ego.
The entire ritual has four parts, and after bowing to each other, the dervishes begin their spiritual journey by starting to spin. They turn in ever-increasing speed, always from right to left. Their arms, which at first are folded over their chests, stretch out and the right hand points towards heaven and the left towards the earth. During the entire performance, nothing but the soft tapping of ever-faster spinning feet, the swish of billowing skirts, and the mesmerizing instruments waft across to the terrace.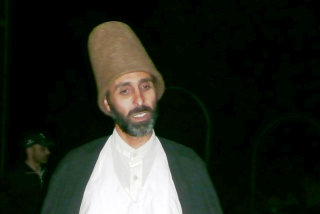 This year following the performance, the Sheikh (master of the troupe), spent time with us so that we could ask questions about the dervishes and how they integrate the importance of their ritual into their day to day life. Our group was enthralled by this beautiful man who was a gentle, caring soul, highly educated and extremely gracious. He was clearly quite moved by our interest and proudly discussed the Sufi philosophy and the significance of the dance as a doorway to the divine.
For more details please visit our information request page and if you would like to reserve your place please visit our booking request page
Flavours of Spain - Our Exciting New Tour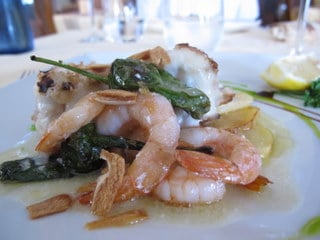 We are thrilled to announce that next May we will be offering our wonderful new Flavours of Spain Tour a delightful gastronomic pilgrimage that explores the exceptional cuisine, incredible wines, rich culture and sweeping beauty of North Eastern Spain.
Our journey will take us from Rioja Alavesa, one of the world's premier wine regions, along the legendary path of the Camino de Santiago, to the magnificent coastline of the Bay of Biscay renowned for its beauty and culture and for being the home of the highest concentration of Michelin starred restaurants in the world.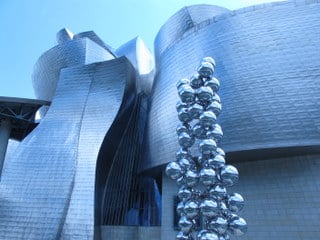 We will experience enchanting villages, glorious seaside vistas, stunning architecture, lush vineyards, delicious wines, colourful markets, a fascinating tapas cooking class, ancient abbeys, amazing art, beautiful countryside and fascinating historical visits.
We have compiled a page of photos of our Flavours of Spain tour for your viewing pleasure and we are greatly looking forward to sharing this delightful new tour with our guests next year.
For more details please visit our information request page and if you would like to reserve your place please visit our booking request page
Arranging Your Travel
Once you have reserved your place via our tour booking page, all your need to do is make your travel arrangements to meet us at the tour rendezvous point. You can either ask your travel agent to assist you, or for the more adventurous you can book your flights and connections yourselves. All of our rendezvous are easily achieved and naturally we provide all of the information and assistance that you will need.
Just a reminder that we have a frequently asked questions page to help answer the most common questions including how to book, travel arrangements, group sizes etc.
Previous Newsletters and Stories of Interest
Our past newsletters contain a lot of interesting stories and are well worth a read. You can find them by visiting our newsletter archives
You may also enjoy reading a few of the stories that we have compiled over the years on our stories of interest page
Thought for the Day
"Man who waits for roast duck to fly into mouth must wait very, very long time."
~ anonymous
I couldn't resist this one as one of my favourite things to do in the world is to eat duck in France.
Our Invitation
Robbi and I look forward to welcoming you to one of our delightful tours or retreats in the near future and invite you to take a peek at the latest photos of our travels in our photo galleries
If you would like detailed information about any of our tours please visit our information request page
As always if you have any questions or if you would like us to assist you personally with advice about your travel arrangements or with any other details please contact us either by email at info@aroma-tours.com or by phone on +61 3 5331 3254 ( afternoon/evening USA time zones, mornings from other countries ).
Please note you need to replace the '+' in our phone number with your country's international dialling prefix: from the USA/Canada it is 011 from most other countries it is 00.
Warmest regards,
Jim and Robbi