Greetings from Robbi and Jim
A warm welcome to all of the members of our Aroma Tours Newsletter in over 30 countries around the world.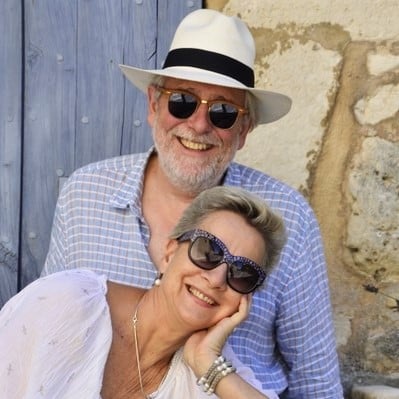 Robbi and I are excited to be at the beginning of another wonderful year of Aroma Tours adventures and we feel truly blessed to once again be able to share our passion for the fabulous places and experiences that we love with delightful people from around the world.
After 26 fabulous years and as we begin to contemplate throttling back on the number of tours we will be offering, the start of each year's tour season is becoming even more poignant for us.
This year has proven to be our most successful season ever with almost all of our tours now sold out. However, there are still a few places available for Spain, Provence and Bali. As always it is our returning guests and their friends who are leading this fabulous response.
Robbi and I would love to share a wonderful journey with you on one of our delightful small group tours this summer. However, with only a half a dozen places remaining for 2020, we encourage you to "Sieze the Day" in order to be sure of securing your place(s).
Aroma Travellers Our Thanks
Without doubt, the main reason that we have grown and flourished over the years, is the on-going support we have received from our past Aroma Travellers and we are thrilled to see that they continue to make up more than 65% of our guests!
We would also like to give our heart-felt thanks to all of you who continue to support us with your kind words and referrals.
Robbi and I also greatly appreciate the wonderful words of thanks we have received over the years and have added a new compilation of Guest Comments to our site.
Australian Bushfires and Your Kind Wishes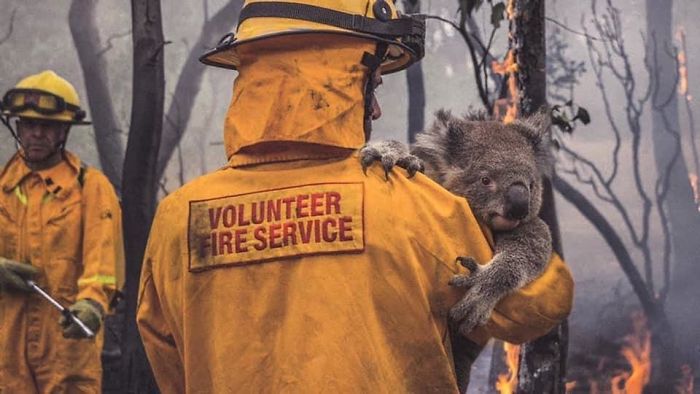 During the Australian bushfire tragedy last month, we received many emails and phone calls from people all over the world offering their prayers and support.
Thankfully we are not in a high fire risk area here in Ballarat and were quite safe but nonetheless we were very touched and grateful for the kind concern we received.
Out of these sad circumstances where lives and even entire towns were lost, have come amazing stories of survival and heroism. Apart from apocalyptic scenes of nature's fury there were also images of community and caring, and moments that reminded us all of the gifts we have all been given.
The response both in Australia and around the world has been magnificent and as I write, the re-building effort is beginning in earnest.
Once again we thank you for your prayers and kindness.
Bali High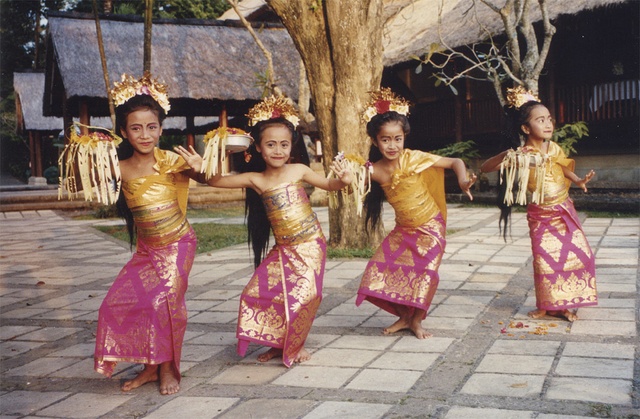 Robbi Reports:
The Balinese people are lovers of beauty in all forms and deeply spiritual according to their Hindu heritage. Many of the Balinese are in fact descended from the Javanese royal family and their court, who moved to Bali in the 15th century bringing with them their skills, customs, culture, art and religion. This has made Bali unique and a place of spirituality and beauty apart from the rest of the world.
Bali is where I go to be rejuvenated and feels like a time out of time where I automatically slow myself to the natural rhythms and rich culture around me. It is also the perfect place to share the nurturing and soul nourishing week of our Bali Women's Retreat
During our time out of time we can find ourselves watching fireflies dance in lush green rice paddies at night, inhaling the gentle aroma of Tuberose and Frangipani drifting on a warm breeze, listening to the haunting sounds of Gamelan music tinkling its way into our soul, lying in a warm bath strewn with aromatic flowers after a blissful 2 hour herbal massage and enjoying delicious healthy meals full of gentle spices and tropical flavours.
One of the most memorable experiences of my life occurred in 2005 during our visit to a traditional Balinese healer - known as a Balian.
Balians are the keepers of Balinese healing lore and once a Balian discovers his healing powers, he is thereafter totally devoted to his healing work, which is based on centuries old herbal lore and an understanding of the movement of energy through the body. A Balian's life is one of service and he does not ask for a fee in return for his services but rather accepts donations of food and sometimes money from the people in the community that he cares for.
Our Balian that year was a fourth generation healer and his insight and capacity to see into each person's energies and locate body stresses was awesome. Time after time as he gently worked he uncovered issues for each one of us that showed clearly his mastery of the healing arts. We laughed, we cried, had herbal tonics and pastes prescribed and came away in the sure knowledge that we had all been touched by the presence of greatness.
Jim has compiled a page of Memorable Photos from Bali for you to enjoy and to help give you a sense of the beauty and richness of experience that await you in Bali.
For more information about our Bali Women's Retreat please visit our tour information page
Please note: If you would like to join Robbi in Bali and will be flying from Australia to join the Retreat, it is important that you secure your flights fairly soon, because of the strong demand for flights to Bali in September.
Our Current Booking Status
The enthusiasm for our 2020 season is continuing strongly with all of our tours now either sold out or down to the last few vacancies.
For detailed information about any of our tours please visit our tour information page and if you would like to join us please visit our make a reservation page.
If you would like us to hold your place(s) for a few days so that you have time to comfortably make your other arrangements please let us know at jim@aroma-tours.com
It is our pleasure to assist you with any questions you may have and we invite you to get in touch with us at jim@aroma-tours.com
Please note
Our up-to-the-minute booking status is available via our calendar page
Creme de Cassis - Kir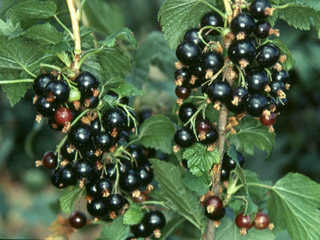 Creme de Cassis is a liquor made from blackcurrants which are generally grown in the regions of Burgundy and the Loire and Rhone valleys.
It is interesting to note that the blackcurrant plant needs to be subjected to below freezing temperatures for 10 weeks or more during winter in order to produce abundant fruit and the berries only maintain optimal flavour for one day! Also, because they are very quickly oxidized once picked ( due to their high vitamin C content ), they must be flash frozen to -30C as soon as possible in order to preserve their colour and flavour.
To create the liquor the frozen berries are warmed to -5C and macerated for up to 3 months in a mixture of water and alcohol which extracts the flavour and colour from the berries without the possibility of fermentation. The resulting juice is then decanted, pressed and filtered and sugar added.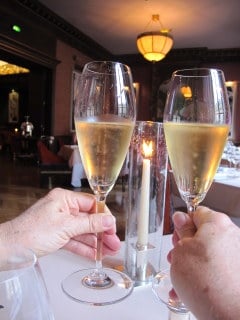 This style of macerated liquor is given the name "creme" to differentiate it from fermented liquors such as Calvados and Eau de Vie. The French name for blackcurrant is cassis, hence the liquor is called Creme de Cassis.
It was the mayor of Dijon, Canon Felix Kir who became famous for his involvement in the resistance and for preserving the tradition and knowledge of making aperitifs during the difficult years of the 2nd world war. Mayor Kir would often be seen offering guests to the capital of Burgundy the traditional blanc cassis. This drink, a combination of dry white wine and creme de cassis became know as a "Kir".
Other drinks incorporating creme de cassis are:- Communard, a dash of creme de cassis plus a cool dry fruity red wine such as passe-due-grain or cabernet trois and ( a personal favourite of ours ) Kir Royale, a blush of creme de cassis in champagne.
Flavours of Spain Tour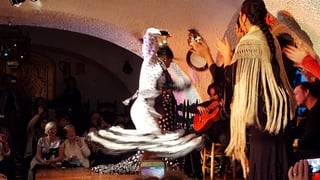 Each year our Aroma Tours adventures begin with our wonderful Flavours of Spain Tour - a fascinating, delightful and delicious journey from beautiful Barecelona to the heart of Basque country.
There are still 2 vacancies available for Flavours of Spain and we would love to share this fabulous gourmet adventure with you in amazing northern Spain.
Travelling Solo in a Group
As well as couples and friends travelling together, we are regularly joined by solo travellers - mostly women, who appreciate being able to journey with liked minded people from around the world, without the need to do all the planning and take on the daunting task of touring by themselves.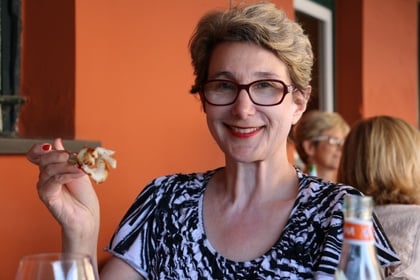 Joining one of our small group tours is easy and we have already made all of the arrangements on your behalf to ensure that you have a delightful, stress-free holiday with the focus on having fun.
Having a ready-made group of friends to travel with, and us to take wonderful care of you is the way to go!
There is no extra charge for solo travellers who are willing to share a room with another same gender guest from our group.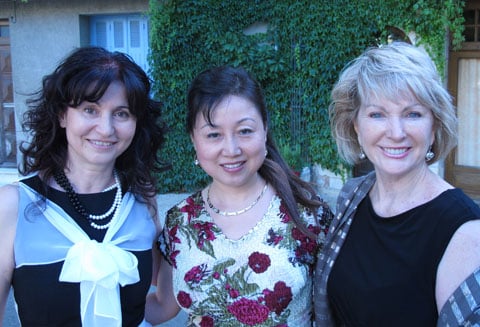 We have carefully crafted off-the-beaten-path itineraries that are the perfect balance of structure, experiences, details and free time to enjoy in your own way.
There have been a significant number of guests over the years who and have joined us multiple times, some of whom have become dear friends.
Mona Smith, pictured at the beginning of this snippet, holds the record for the most tours attended by a solo traveller - she has journeyed with us 10 times and this year will be her 11th!
Susan Troxell from NYC is a close second and has joined us 9 times with a 10th coming next year.
Our Invitation
Robbi and I look forward to welcoming you to one of our delightful tours or retreats as we continue moving towards our retirement in the next few years.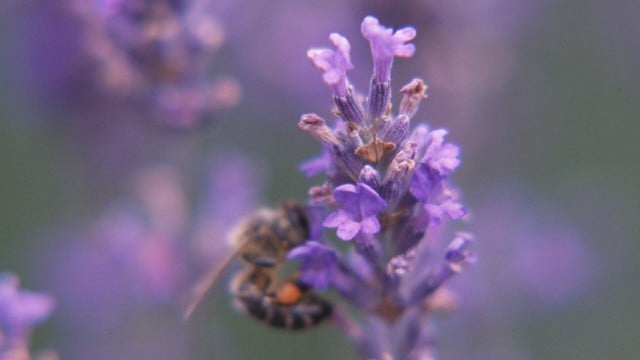 For detailed information about any of our tours please visit our tour information page and if you would like to join us please visit our make a reservation page.
As always if you have any questions or if you would like us to assist you personally with advice about your travel arrangements or with any other details please contact us at info@aroma-tours.com
Warmest regards,
Jim and Robbi