Greetings from Robbi and Jim
A warm welcome to all of the members of our Aroma Tours Newsletter from around the world.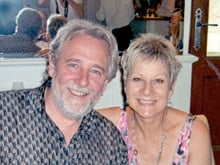 Robbi and I are continuing to work hard preparing for the start of this year's Aroma Tours adventures which begin this May with our wonderful new Flavours of Spain Tour

We are greatly enjoying sharing the excitement and anticipation of our guests as we draw closer to the beginning of our journeys together and we feel truly blessed to be able to share our passion for the places and experiences that we love with wonderful people from around the world, many of whom are joining us once again.
We look forward to welcoming more Aroma Travellers in the next short while to this year's Aromatic Adventures and we are thrilled to see that if everything continues as it has so far, 2012 is going to become our most successful year ever.
For the latest details of our tours please visit our information request page and if you would like to join us this year, you can reserve your place by visiting our tour booking page.
Memorable Photos of Our 2011 Adventures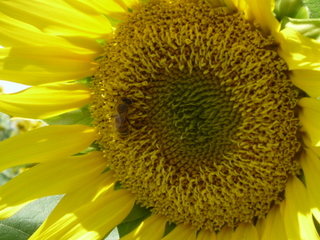 One of the best ways to enjoy the spirit of our Aroma Tours adventures is by taking a peek at a few of the photos that have been taken during our time on tour.

We have recently added a new page of Memorable Photos from 2011 for you to enjoy and also invite you visit our other Photo Gallery Pages where you can browse through more of the hundreds of other lovely photos of our aromatic adventures.
A picture tells a thousand words and if you have not already done so, please do be sure to take a peek at our new Photos of our Guests Page
Aroma Travellers Our Thanks
Without doubt, one of the main reasons that we continue to grow and flourish, is the on-going support we receive from our past Aroma Travellers.
This year we are on track to achieve the greatest number of returning Aroma Travellers we have ever enjoyed - currently over 31% of our guests!
For Robbi and myself, it is such a great delight to be welcoming back so many good friends and to see our Aroma Tours continuing to flourish.
We would also like to give our heart-felt thanks to all of you who continue to support us with your kind words and referrals as you spread news of our tours and retreats amongst your friends.
Robbi and I also greatly appreciate your wonderful words of thanks, it means so much to us to know that we have shared a special time with you during our journey together.
If you have not already done so, please take a peek at our Guest Comments from 2011
Rioja - Where Tempranillo Rules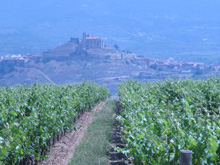 Rioja [pronounced: ree oh ha] in the north of Spain is a land redolent with aromatic plants such as thyme, rosemary and juniper growing alongside sweeping rows of lush vines.

It is also blessed with a diversity of terrain, a rich historic heritage and is the finest place on earth to grow tempranillo grapes.

Many people are not familiar with this particular grape variety, however, during the 19th century Phylloxera outbreak in Bordeaux that devastated the vines of that region [ and many others as well ], it was to Rioja that the Bordelaise turned in order to replace their missing stocks.
Tempranillo, with its weight, structure and balance of flavour closely resembling the cabernet-merlot blends typical of Bordeaux was a godsend, and for two decades this previously little known grape, travelled north along a purpose built railway line to bolster the wines of that most prestigious of French wine regions.
This exchange also resulted in Rioja benefiting from the experience and expertize of the Bordelaise who introduced barrel aging and other refined techniques of winemaking to Rioja.
Today Rioja is one of the world's great wine regions with 57,000 hectares under cultivation, yielding more than 250 million litres of wine per year. In size it rivals nearby Bordeaux and is significantly larger than the Cote du Rhone.
Rioja is quite diverse with three principal regions:-
Rioja Alta: a cold climate environment, up to 800m above sea-level with a relatively short growing season that produces a lovely light, elegant, unripe style of wine.
Rioja Alavesa: occupies the region between Alta and Baja and produces wines with a full body, ideal acidity and rich aromatic complexity.
Rioja Baja: a warmer and drier climate at about 500m above sea-level produces fully ripe, deeply coloured, highly alcoholic wines. Unlike the higher regions, however, they lack acidity and aromatic complexity which are essential characteristics of a fine wine worthy of aging. As a result they are mostly used for blending to add colour and body to the wines from other parts of Rioja.
Tempranillo is the main grape variety and is complimented by Garnacha Tinta [Grenache], Graciano, and Mazuelo. A typical blend consists of approximately 60% Tempranillo and up to 20% Garnacha along with the remaining balance made up of Mazuelo and Graciano mainly for colour and aromatic interest.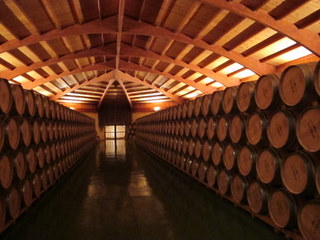 Traditionally it was not uncommon for the red wines of Rioja to be aged for 15 years or more before their release. This dedication to quality is still clearly apparent in the contemporary wines of Rioja, although most bodegas [wineries] have shifted their winemaking focus to shorter maturation times with top wines typically aging for 4-8 years prior to release. There has also been a slow evolution in the use of oak barrels from French to American and then back to French or a blend of the two.

Rioja red wines are classified into four categories:-
Rioja [with no other designation]: the youngest, spending less than a year in oak
Crianza: aged for at least two years with at least 50% of that time in oak
Rioja Reserva: aged for at least three years with at least one year in oak.
Rioja Gran Reserva: aged for at least two years in oak and three years in bottle.
This may well be way too much information, and suffice it to say the most important thing is the wine in the glass you are holding, but knowing a little about the traditions and environment of a wine is a lovely way to add to the enjoyment.
There is also a great deal of cultural history in this region for us to explore, juxtaposed with amazing modern architectural wonders, all of which we will be part of our experiences during our Flavours of Spain Tour this May.
Le Feu de St Jean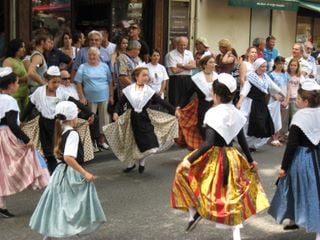 A little while ago during our Provence Adventures we had the pleasure of witnessing the ancient ritual of Le Feu de St. Jean - The Fire of St. John.

This colourful celebration dates back to pagan times and is always held on the eve of the summer solstice; representing the victory of light over darkness on the shortest night of the year. All manner of healing and benefits are associated with the fire, such as curing of disease, enhancing fertility and protection from adversity.
On a perfect balmy summer's eve as we strolled through a lovely small village, we were treated to the spectacle of a colourful procession of villagers dressed in traditional Provencale costume parading through the narrow streets to the sounds of flutes and drums.
At the center of the procession was a horse-drawn wagon laiden with fruits of the harvest and as it passed we were offered garlands of rosemary, lavender, corn, fruit, wheat, brush-wood and other offerings for "Le Feu".
The parade's destination was the village's central square where a large bon-fire awaited us. The main festivities began shortly afterwards, with the mayor, resplendent in his tri-coloured sash, addressing us at some length on the ripening of the season and the bountiful harvest soon to come.
He was flanked by dancers and musicians who enthusiastically performed for us and one of the most memorable songs we heard that night, told the story of two young lovers whose eyes met for the first time gazing across the Fire of St John. [ to this day it is one of my favourite songs ]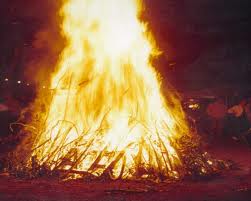 Once it was fully dark, the festivities began in earnest as the bonfire was carefully lit and we all began to circle slowly three times around "Le Feu", whilst throwing flowers, herbs, and garlands into the flames with the words - "May all my ill-luck depart and be burnt up with these."

We were all enchanted by these heart-felt traditions and took a moment to gave thanks, reflect on the year gone by and then bless the year to come, as we joined the whole village in celebration.
Our Current Booking Status
Robbi and I are thrilled with the fabulous start to this year's tour season with 3 tours now fully booked and 6 others soon to join their ranks.
We are also looking forward to welcoming more guests to our Flavours of Spain and Flavours of Dordogne tours before bookings close around the end of March.
With most of our Provence tours now almost full, we decided a short while ago to open bookings for our delightful Aromas of Provence Tour: 20 - 27 July 2012 and the response has been wonderful with the tour already almost half full.
This may also be the end of an era with the possibility that after 18 years, 2012 will be our last ever Provence Aromatherapy Retreat so if you ever wanted to join the retreat this could be your last chance.
Our booking status at the time of this newsletter is:-
Robbi and I are greatly looking forward to the start of our aromatic adventures this year and hope that we will have the pleasure of your company.
For detailed information about any of our tours please visit our information request page and if you would like to join us please visit our booking request page to reserve your place.
It is our pleasure to assist you with any questions you may have and we invite you to get in touch with us either by email at info@aroma-tours.com or by phone on: +613 5331 3254 (afternoon/evening USA time zones, mornings from other countries).
Please note
Our up-to-the-minute booking status is available via our calendar page
If the tour you would like to attend becomes fully booked you may like us to add you to that tour's waiting list as sometimes we receive late cancellations or transfers.
Flavours of Spain - Our Exciting New Tour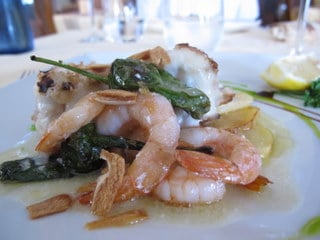 We are thrilled to announce that this May we will be offering our wonderful new Flavours of Spain Tour, a delightful gastronomic pilgrimage that explores the exceptional cuisine, incredible wines, rich culture and sweeping beauty of North Eastern Spain.

Our journey will take us from Rioja Alavesa, one of the world's premier wine regions, along the legendary path of the Camino de Santiago, to the magnificent coastline of the Bay of Biscay renowned for its beauty and culture and for being home to the highest concentration of Michelin starred restaurants in the world.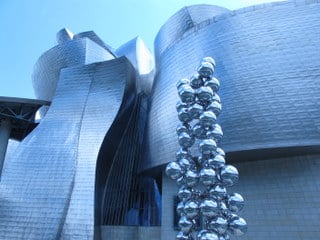 You will experience enchanting villages, glorious seaside vistas, stunning architecture, lush vineyards, delicious wines, colourful markets, a fascinating tapas cooking class, ancient abbeys, amazing art, beautiful countryside and fascinating historical visits.

We have compiled a page of photos of our Flavours of Spain tour for your viewing pleasure and we are greatly looking forward to sharing this delightful new tour with our guests next year.
Bookings will be closing at around the end of this month and we are keen to get a few more guests for this year to secure our lovely accommodation for the future.
Robbi and I hope that you will be able to join us this May
For more details please visit our information request page and if you would like to share this wonderful new adventure with us you can reserve your place via our booking request page
Tales of our Turkish Odyssey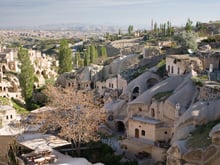 One of our favourite experiences in Turkey is staying in a small village in the Cappadocia region where the countryside over the millennia has been sculpted by volcanic activity and erosion to form a fantastic moon-like landscape.

Because the rocks were formed from volcanic dust they are quite soft and as a result over the centuries people have been able to create houses and even entire underground cities.
Early Christians chose to live in the area because of its isolation, giving them safety from persecution and built some of the world's first churches which they adorned with amazing Christian religious art that we can still experience today.
Our village accommodation is partly situated in a one thousand year old Byzantine monastery complete with frescoes, and most importantly, modern conveniences. We stay in comfort, without distracting from the character and spiritual feeling of the area which has been continuously inhabited for more than five thousand years!
There is an underground city just across from the hotel waiting to be excavated and from our windows we can see fine examples of cave houses where ancient people once lived.
Traditional Turkish village life is everywhere around us with smiling faces and children running up to greet us, women filling their water pitchers from the communal fountain, children tending their flocks and the smell of hot fresh bread from the village stone oven.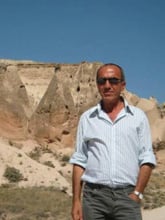 Our hotel was the vision of our dear friend Ibrahim who decided to create a hotel in this out-of-the-way location so that others could share an amazing experience and most importantly to help raise money for irrigation and other improvements for his village. After much effort and overcoming of obstacles, with the help of a benefactor from Germany his vision was finally realized and we were amongst his first guests.

Each evening the night is full of enchantment as we sit watching the sunset painting colours across the amazing landscape then retire inside to a delicious banquet, sitting on cushions Turkish style, listening to fabulous live music played by the villagers as we chat, dance and laugh well into the evening.
There are many wonderful places and moments that share during our adventures in Turkey and we invite you to take a peek at a few photos we have taken of them.
For more details please visit our information request page and if you would like to reserve your place please visit our booking request page
Flavours of Dordogne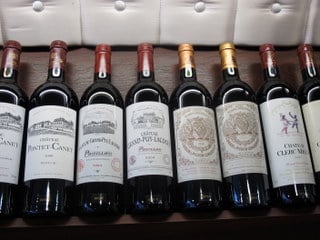 Our Flavours of Dordogne Tour was offered for the first time last year and was a resounding success, with a full compliment of guests and many delicious and memorable moments shared over a delightful week together.

We started well with a visit to one of Bordeaux's most prestigious Grand Cru Classé wineries to enjoy a tasting of their delightful wines, followed by a wonderful gourmet meal in a small family owned restaurant located in a beautiful perched village nestled amongst some of the most renowned vineyards in the world.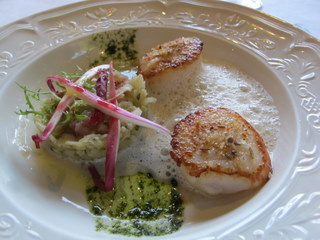 Our time together included many wonderful gastronomic meals, however, one of the most enjoyable for me was in a tiny newly opened brassiere owned by Raphael and his lovely wife Yvette, who also happened to be the chef. I am a huge fan of duck and though I knew that the food was very good, Yvette produced for us one of the finest examples of magret de canard [with a creamy cepe sauce] that I have ever tasted. [ next time I will get a photo of that particular meal - we were too busy enjoying ourselves for photos ]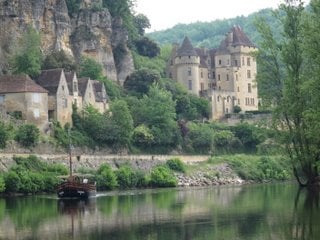 In addition to savouring many other gastronomic delights it was also a joy to explore the unspoilt beauty of this fascinating region with its sweeping river valleys, fortified medieval chateaux, colourful markets, magnificent gardens, patisserie cooking class, pre-historic sites, spectacular caves and some of the most beautiful villages in France.

It will be our pleasure to return to Dordogne this May and we are greatly looking forward to sharing many more delightful moments with our guests in this glorious region.
There are many wonderful places and moments that we shared and we invite you to take a peek at a few photos of our adventures in Bordeaux and the Dordogne.
For more details please visit our information request page and if you would like to reserve your place please visit our booking request page
Arranging Your Travel
Once you have reserved your place via our tour booking page, all your need to do is make your travel arrangements to meet us at the tour rendezvous point. You can either ask your travel agent to assist you, or for the more adventurous you can book your flights and connections yourselves. All of our rendezvous are easily achieved and naturally we provide all of the information and assistance that you will need.
Just a reminder that we have a frequently asked questions page to help answer the most common questions including how to book, travel arrangements, group sizes etc.
Previous Newsletters and Stories of Interest
Our past newsletters contain a lot of interesting stories and are well worth a read. You can find them by visiting our newsletter archives
You may also enjoy reading a few of the stories that we have compiled over the years on our stories of interest page
Thought for the Day
"Wherever you go, go with all your heart."
~Confucius
Our Invitation
Robbi and I look forward to welcoming you to one of our delightful tours or retreats in the near future and invite you to take a peek at the latest photos of our travels in our photo galleries
If you would like detailed information about any of our tours please visit our information request page
As always if you have any questions or if you would like us to assist you personally with advice about your travel arrangements or with any other details please contact us either by email at info@aroma-tours.com or by phone on +61 3 5331 3254 ( afternoon/evening USA time zones, mornings from other countries ).
Please note you need to replace the '+' in our phone number with your country's international dialling prefix: from the USA/Canada it is 011 from most other countries it is 00.
Warmest regards,
Jim and Robbi