covered passages of paris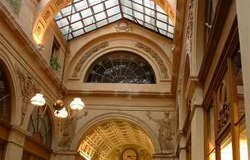 Between the Palais Royal and Les Halles on the right bank of Paris you will find the "passages couvert".

These fascinating galleries and covered arcades with their tall iron work and glass roofs, hand carved woodwork, wrought iron gas lanterns and mosaic or marble floors date back to Paris's heyday of the mid 1800's. It was an era of promenading on the grand boulevards, dance halls, theatre, luxury boutiques and the first restaurants.

At the height of their popularity there were 150 such "passages couvert", today however, there are less than 20.

Each has its own characters and personality from elegant and polished to shabby and laid-back and are full of boutiques, speciality shops, antique and book stores and many wonderful sights and reminders of days past.

A lovely way to experience the passages couvert is to walk north through the Palias Royale precinct enjoying the beauty and colour of the gardens with their lovely trees and fountains, restaurants and stone arches along the way and through the small passage du Perron and the crooked passage Deux Pavillion to the beautifully restored wonderland of the Gallerie Vivienne
and the nearby Gallerie Colbert.