Greetings from Robbi and Jim
A warm welcome to all of the members of our Aroma Tours Newsletter in over 30 countries around the world.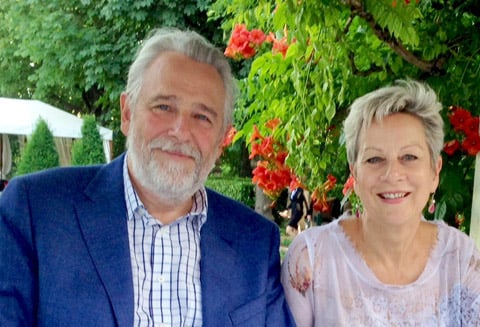 Robbi and I are now back home in our lovely little cottage in south eastern Australia enjoying the awakening of spring with daffodils, newly opening leaves, magnificent flowering wattles, fruit trees in blossom and an abundance of rain.

It is nice to be enjoying our home again after more than three months of wonderful adventures in Spain and Provence with time to reflect on the many delightful moments we have shared with our Aroma Travellers.
We are looking forward to adding the final chapters to our Aroma Tours chronicles for this year and will share some of the stories of our Bali, Tuscany and northern Italy adventures with you in our October newsletter.
Bookings for our 2017 season are proceeding wonderfully well indeed with most of the tours already almost half or two thirds full!
As always it is our returning guests and their friends who are leading this fabulous response. We feel truly blessed to be able to share our passion for the places and experiences that we love with wonderful people from around the world. As we start to throttle back on the number of tours we are offering it becomes even more poignant for us.
As the saying goes "Carpe Diem" and if you would like to seize the day and join our Aroma Travellers next year, we invite you to visit our information request page for more information or our booking request page to reserve your place.
Aroma Travellers Our Thanks
Without a doubt, the main reason that we have continued to grow and flourish over our more than 20 years, is the on-going support we receive from our past Aroma Travellers.
We are once again enjoyed an outstanding number of returning Aroma Travellers and new guests who joined us because of direct referrals - over 65% of our guests!
For Robbi and myself, it is such a great delight to welcome back so many good friends and to see our Aroma Tours continuing to flourish.
We would also like to give our heart-felt thanks to all of you who continue to support us with your kind words and referrals as you spread news of our tours and retreats amongst your friends.
Robbi and I also greatly appreciate your wonderful words of thanks, it means so much to us to know that we have shared a special time with you during our journey together.
2016 Guest Comments ( first installment )
Our two aroma tours of Provence were beyond our wildest imagination in every way!
From the moment the tour began we found ourselves smiling and relaxing under the wonderful care of Robbi and Jim, who were both entertaining as well as super organized down to every detail. We didn't have a single worry the entire time! Our job was to enjoy ourselves!

Their selection of places to see & things to do were superb! Every day we found ourselves almost overwhelmed by the beauty surrounding us, the exquisite meals, the history and inspiration. We returned home feeling the most enriched we have every felt. I kept using the phrase, "blissed out!" throughout the tours. We miss Provence and its wonderful people!

The wonderfully selected accommodations put us in the heart of Provence and the French way. How wonderful! We were so grateful for Virgilio, our super skilled driver, who managed every curve with finesse and comfort. That was important!

For two whole weeks, we enjoyed every minute, smiled and laughed a lot, made great friends on the tours, and were thrilled to be every place we were taken. Obviously, with over 20 years of Robbi and Jim's thoughtful planning on the things people would enjoy, they really hit the jack pot on that one! We loved it all!

We can never thank Robbi and Jim enough for the trip of our life time! And we deeply appreciate their constant care-taking and empathy towards our happiness, every day! It worked! You two are geniuses at this!" You did it all with great heart! We look forward to another tour in the near future! Please don't retire just yet!" Thanks a billion for all the laughter, fun, and great times learning and experiencing the most wonderful place on earth!
~ Shannon and Scott Peck, USA
My two tours in Spain - number eight and nine - were absolutely divine! To travel with the dream team of Jim, Robbi and Carol was yet again a delight and full of the most delicious surprises - as every day unfolded we were treated to visits to see the beautiful architecture and then to enjoy what is probably one of the best cuisines in the world - the Spanish chefs continue to raise the bar. Thank you for showing us the best of the best in this stunning country! Could there be a tour number 10 in my future!!!!!
~ Susan Troxell, New York City
Memorable Photos from Spain 2016
One of the best ways to enjoy the spirit of our Aroma Tours adventures is by taking a peek at a few of the 1000's of photos we have taken during our 2016 travels.
This installment is from our adventures in Spain during our Flavours of Spain and Spanish Gourmet Pilgrimage
What an outstanding time we shared exploring the many wonders and hidden gems of this beautiful region.
Please also be sure to take a peek at the delicious ( in many cases Michelin starred ) meals that we enjoyed along the way further down in this newsletter.
We have also included photos of some of the delicious meals we shared - with many Michelin stars in evidence - in our Food Glorious Food piece further down in this newsletter.
Our Current Booking Status
We will be closing bookings for our 2016 season in the next few weeks and since opening our 2017 season in May we are thrilled to see that the response has been outstanding with most of our tours almost half or in some cases two thirds full.
There are still 2 places available for our Bali Women's Retreat this September, however, we highly recommend that you get in touch with us very soon if you would like to join us this year as bookings for 2016 will be closing next week.
The current booking status at the time of this newsletter is:-
For detailed information about any of our tours please visit our information request page and if you would like to join us please visit our booking request page to reserve your place.
It It is our pleasure to assist you with any questions you may have and we invite you to get in touch with us at info@aroma-tours.com.
Please note
Our up-to-the-minute booking status is available via our calendar page
If the tour you would like to attend becomes fully booked, please let us know if you would like us to add you to the waiting list for that tour in case a place becomes available due to a cancellation.
Bali Women's Retreat: 12 - 19 September 2016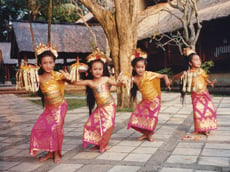 Enjoy a nurturing, nourishing week of indulgence in the lush island paradise of Bali.

This healing week is designed for busy women who enjoy relaxation, pampering, harmony in eating and resting, a desire to embrace inner peace and energy for life.

Enjoy traditional Balinese massages, relaxing gentle yoga, guided meditation, delicious food, aromatic facials, Balinese cooking class, heart-centred processes, temple visits, purification ceremonies with time out from the rush of life to explore the nature of ritual in everyday life and a heart felt sharing of the beautiful culture and character of the Balinese people and their island of temples.
If you would like to join Robbi in beautiful Bali this September to share in the wonderful experience of our Bali Women's Retreat there are still 2 places available.
For more details please visit our information request page and if you would like to reserve one of the remaining places please visit our booking request page
Our Invitation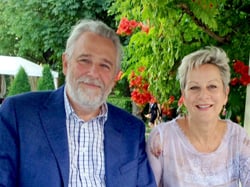 Robbi and I look forward to welcoming you to one of our delightful tours or retreats in the near future as we continue moving towards our retirement in the next few years.
As always if you have any questions or if you would like us to assist you personally with advice about your travel arrangements or with any other details please contact us at info@aroma-tours.com
Warmest regards,
Jim and Robbi