karunya trust children's home
Karunya - A Sanskrit word meaning "Great Compassion"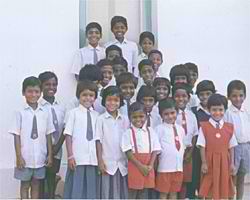 Aroma Tours is proud to be supporting the Karunya Trust Children's Home and their ongoing wonderful work with the orphans and needy children of the Tamil Nadu region of India.
From every Aroma Tours' booking we will be making a donation to the Karunya Trust to help support their continued efforts.
A Brief History:
The Karunya Trust Children's Home was established in February 1992 in Tiruvannamalai, Southern India. The district is an agricultural area and very under-developed. Most of the people in the villages are illiterate and extremely poor. In the villages there are orphans, many children with single parents ( due to death mostly ) and families with many children having minimal income.
The Karunya Trust assists these children by providing them with needs such as food, shelter, education, clothing and medical care. In 1994 the Trust purchased land in order to build a house for 20 children. In 1997, a second house was constructed and now there are 20 girls and 20 boys being cared for aged between four and seventeen years.
Gradually with love, discipline, improved nutrition and regular schooling the children have gained strength, energy and commitment to their studies and a new zest for life.
Karunya is supported by friends from many different countries all with the loving desire to help children in need.
If you wish to know more about the trust or if you would like to be part of the Karunya Trust support network you can contact Sharyn and Kumaran via The Karunya Children's Trust Website