bali womens retreat
Ubud 2 - 9 September 2017 : 5 vacancies
Ubud 11 - 18 September 2017 : 2 vacancies
Enjoy a nurturing, nourishing week of indulgence in the lush island paradise of Bali. Be with your own essential spirit, focus on emotional renewal, discover new ways of bringing richness and splendour to your relationships..... your hopes.... your aspirations.
This healing week is designed for busy women who enjoy relaxation, pampering, harmony in eating and resting, a desire to embrace inner peace and energy for life.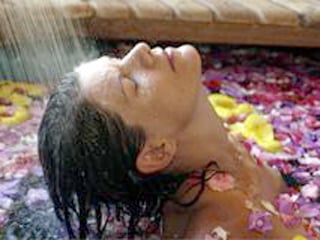 Enjoy traditional Balinese massages, relaxing slow yoga, meditation, delicious Asian flavours, aromatic facials, a Balinese cooking class, heart-centred processes, connecting with other women on a similar journey, time out from the rush of life and explore the nature of ritual in everyday life.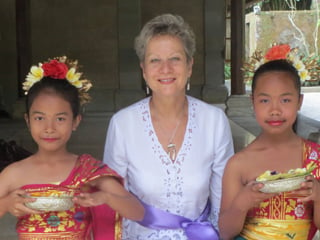 Facilitated by
author
and highly regarded international trainer Robbi Zeck ND who has spent the last 40 years, inspiring and assisting people to enhance the substance and quality of their lives through her clinical practice, workshops, retreats and ceremonies, in France, Ireland, Bali, Hong Kong, Singapore, Taiwan, USA, Canada, Australia and New Zealand.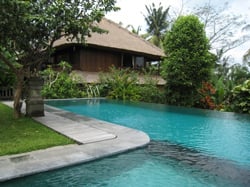 This idyllic residential program is located in the cool tranquil hills just outside of the artists village of Ubud. Our accommodation is at a beautiful family owned specialty hotel, surrounded by lush fertile rice paddies in an exquisite garden setting with natural spring-water swimming pools.
"I have never felt so much love, seen so much beauty and grace before...thank you." - Fabiana London UK

"Our time in Bali was pure Magic. You took us on a journey of discovery, love and friendship. Thank you is such a small word for what we shared." - Nancy Miltenoff Melbourne Australia

"I had a fabulous time - just what the (inner) doctor ordered!!! will have to do it again I think just for the sheer replenishment factor." - Sal Rodd Melbourne Australia
In 2015 we celebrate our 25th Bali Women's Retreat. After living in Bali for a time in 1975 I have always been touched by the gentle spirit of the Balinese people with their beaming smiles and bottomless giving. I simply adore them! There is nowhere on earth more beautiful to surrender to love and life fully.
There is also a page of Bali Reflections for you to enjoy and to give you a better insight into the wonderful experiences that are enjoyed during the retreat.
Click here for more photos of the Bali Women's Retreat
Robbi's highly successful book The Blossoming Heart - Aromatherapy for Healing and Transformation was published in April 2004 and is now in its 3rd Edition and has been translated into Spanish and Chinese.