Greetings from Robbi and Jim
A warm welcome to all of the members of our Aroma Tours Newsletter in over 30 countries around the world.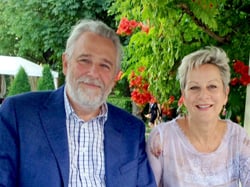 Robbi and I are now back home in our lovely little cottage in south eastern Australia enjoying the awakening of spring with daffodils, newly opening leaves, magnificent flowering wattles, fruit trees in blossom and an abundance of rain.

It is wonderful to enjoy our home again after more than three months of Aromatic Adventures in Spain, Dordogne, Turkey and Provence. Plenty of time to reflect on the many delightful moments we have shared with our Aroma Travellers.
We are looking forward to adding the final chapters to our Aroma Tours chronicles for this year and will share some of the stories of our Bali, Tuscany and northern Italy adventures with you in our October newsletter.
Bookings for our 2016 season are favourable indeed, with many of the tours already either fully booked or down to the last few places. Thank you!
As always it is our returning guests and their friends who are leading this fabulous response. We feel truly blessed to be able to share our passion for the places and experiences that we love with wonderful people from around the world. As we start to throttle back on the number of tours we are offering it becomes even more poignant for us.
As the saying goes "Carpe Diem" and if you would like to seize the day and join our Aroma Travellers next year, we invite you to visit our information request page for more information or our booking request page to reserve your place.
Kind thanks to Tim Cohen ( Heart of Provence 2015 ) for this photo of Robbi and I.
Aroma Travellers Our Thanks
Without a doubt, the main reason that we continue to grow and flourish, is the on-going support we receive from our past Aroma Travellers.
This year we enjoyed an outstanding number of returning Aroma Travellers and new guests who joined us because of direct referrals - over 66% of our guests! A similar result is occurring for next year as well.
For Robbi and myself, it is such a great delight to welcome back so many good friends and to see our Aroma Tours continuing to flourish.
We would also like to give our heart-felt thanks to all of you who continue to support us with your kind words and referrals as you spread news of our tours and retreats amongst your friends.
Robbi and I also greatly appreciate your wonderful words of thanks, it means so much to us to know that we have shared a special time with you during our journey together.
Your appreciation that we have shared such a special time with you during our journey together means so much to us and make us very happy indeed.
2015 Guest Comments ( first installment )
Traveling with Robbi and Jim feels like traveling with friends so it did not matter that I was traveling alone. Each tour was filled with amazing like minded people from all over the world. I have made some wonderful friends. I can not recommend Aroma Tours more highly. I could not have been looked after better. Lovely for me not to have to worry about anything. I would just turn up each day and enjoy. It truly was a trip of a lifetime. And I look forward to travelling with Robbi and Jim again.
~ Christine Roach Croydon Australia
I just wanted to thank you both very much indeed for taking me to wonderful Turkey. I was delighted with the itinerary and I cannot think of one part of the trip I didn't love. I was really thrilled by so many things and the group of people you brought together was great. The mixture of wonderful history, amazing sites and beauty, shopping and fun was perfect and I came away adding this trip to one of my 'favourites'.
~ Delphine Kuiken Sydney Australia
We're still feeling the glow from our fabulous tour in Provence with you and Robbi. Thank you both for such a happy and memorable week.
~ Susan and Randall Wheaton Rockingham USA
It was such a special time and we loved the whole experience especially the little attentions to detail that made us feel so special and indulged. What a wonderful way to explore a beautiful part of a fabulous country, taste, smell, touch, hear, see and feel- a sensory smorgasbord indeed! And All wrapped up in a dollop of fun, why would we not be back to sample more.
~ Brenda Ilbury South Africa
This Provencale journey has been a wonderful pleasure. Thank you for the many kindnesses you have extended. You are the perfect hosts. Always a kind thought and helpful gesture.
~ Judy Wallop Oklahoma City USA
Thank you for such a delightful, well organised and tasty tour of Provence. It was all I hoped for and more. It was also wonderful reconnecting with Robbie after several years and I hope that I have the opportunity to catch up again sometime. I have recommended the tours to my envious friends back in Perth- hopefully to keep you busy for a while yet!
~ Sue O'Keefe Perth Australia
Thank you both for being such wonderful hosts showing us "your Provence". The week exceeded my expectations....the countryside, food and wine, accommodation and company, your attention to detail and research. It is probably the closest to heaven I shall ever be! I felt like a personal guest in your home taking on your infectious "joie de vivre". I sincerely hope I can participate in another Aroma tour in the near future. I return home, with very happy memories of my time in Provence. Look forward to seeing you again.
~ Millie Marinkovich Strathfield Australia


You may also enjoy taking a peek at our guest comments from other years, beginning with our Guest Comments from 2014
Memorable Photos from 2015
One of the best ways to enjoy the spirit of our Aroma Tours adventures is by taking a peek at a few of the 1000's of photos we have taken during our 2015 travels.
Robbi and I also enjoy sharing with you some of beautiful images taken by our guests during their journeys with us.
We look forward to sharing the next installment of lovely images in our next newsletter.
We look forward to sharing more lovely images of our travels in our next newsletter.
Our Current Booking Status
Bookings for our 2016 season are continuing to be outstanding with two thirds of our tours now either full down to the last few places, thanks to our guests ( mainly return travellers and their friends ) making their plans well ahead of time.
The current booking status at the time of this newsletter is:-
For detailed information about any of our tours please visit our information request page and if you would like to join us please visit our booking request page to reserve your place.
It is our pleasure to assist you with any questions you may have and we invite you to get in touch with us either by email at info@aroma-tours.com or by phone on: +613 5331 3254 (afternoon/evening USA time zones, mornings from other countries).
Please note
Our up-to-the-minute booking status is available via our calendar page
If the tour you would like to attend becomes fully booked, please let us know if you would like us to add you to the waiting list for that tour in case a place becomes available due to a cancellation.
We will be gradually changing our schedule of tours over the coming years to allow us more time for other projects and activities.
Photos of Food Glorious Food
Delicious food and wines are an integral part of each Aroma Tour. From finest gourmet cuisine to delicious home-cooked fare, our meals are always colourful, authentic and flavoursome and are enjoyed in a leisurely fashion.
We love to create menus that tantalize the taste buds of our guests on tour and share the tastes and aromas of fresh seasonal ingredients prepared with practiced skill, care and pride in preparation, combine in a myriad of ways to bring us moments to savour.
For your enjoyment also it our pleasure to share a few images of the lovely gastronomic moments we shared.
We hope that you enjoyed this visual feast and we will share more yummy images with you in our next newsletter.
Giacomo Returns
Italy is a place of contrasts, contradictions and delights, blessed with rich cultural and gastronomic treasures and the indomitable character and friendliness of the Italian people.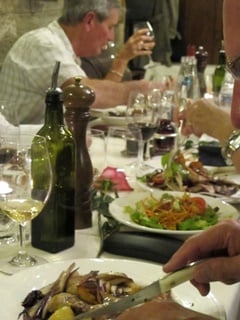 As well as nourishment for the eyes, life takes on a different pace with long lunches in beautiful hilltop villages, wonderful coffee, delicious wines, truffles, parmegiano cheese, porchini mushrooms, prosciutto, fresh pasta..... [ so many wonderful tastes ], laughter and the fine Italian art of "¯dolce fa niente"¯ - sweet doing nothing!

Giacomo is my name in Italian. Each year, shortly after my return to Italy in September, the transformation from Jim to Giacomo begins.

The Dolce Vita soaks into my blood with the first taste of fresh porcinis, the sound of wine glasses gonging, the rich flavour of a fine sangiovese wine, gorgeous hilltop villages and the welcome faces of friends.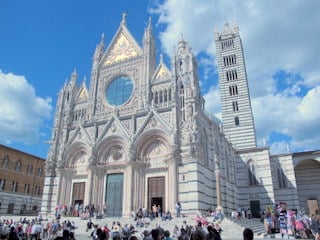 It is also about absorbing the richness and passion of Italian life and savouring its cultural heritage evident in the art, architecture, pageantry, festivals, fashion, design, craftsmanship and unique approach to living.

We are all destined to be transformed by the magic of this place - feeling more Italian moment by moment, speaking more enthusiastically, smiling broadly and even displaying a bit of emphatic arm waving!

If you would like to join us for some "Dolce Vita", there are still 2 places available for both our Aromas of Tuscany and Flavours of Italy tours.
For more details please visit our information request page and if you would like to reserve your place please visit our booking request page
Provence Aromatherapy Retreat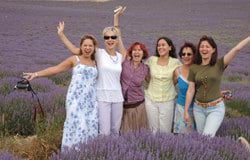 As well as our lovely food, wine and culture based tours, educational retreats have been a long standing part of our Aroma Tours journey.

After a three year pause, we are pleased to announce that in 2016 we will once again be offering our Provence Aromatherapy Retreat focused on the use of essential oils and associated natural products for skin care, women's health and wellbeing maintenance.
In addition to Robbi ck ND ( our Robbi ) and her wonderful work on the emotional and wholistic aspects of aromatherapy, we are excited and delighted to welcome world renowned experts, Dr Bo Hengden of Absolute Essentials ( New Zealand ) and Megan Larsen of Sodashi Skin Care ( Australia ) who will sshare their extensive knowledge and expertise in the development and application of natural, organic and effective products for both therapeutic and cosmetic use.
AAttendees will gain a great deal of knowledge from our wonderful trainers and local experts and will be empowered to make their own natural skin care and well being products for personal or professional use. We will also enjoy the beauty and culture of Provence, amongst the blooming lavender fields and experience essential oil production from field to bottle, as well as sharing with other aromatherapists from around the world.
Past Retreat Attendee Comments
"I came to Provence with certain expectations and this week has been far beyond what I could have imagined. All my senses have been awakened and I feel oured and grateful to have attended the retreat. I return home with happiness in my heart." Kate Nilsen-Nygaard, Marne Norway
"I return to the USA confident and inspired to put into practice the wonderful things I have learned. What a beautiful, magical week - thank you." Toni Jacoby, Phoenix USA
"I have been blessed to be at this wonderful retreat. What an incredible wealth of knowledge, set amongst the beauty of the lavender fields. Thank you for creating such a powerful healing space. With gratitude and love." Marinalva do Vale Souza, Indaiatuba Brazil
For more details please visit our information request page and if you would like to reserve your place please visit our booking request page
Our Invitation
Robbi and I look forward to welcoming you to one of our delightful tours or retreats in the near future and invite you to take a peek at the latest photos of our travels in our photo galleries
For detailed information about any of our tours please visit our information request page and if you would like to join us please visit our booking request page to reserve your place.
As always if you have any questions or if you would like us to assist you personally with advice about your travel arrangemeAs always if you have any questions or if you would like us to assist you personally with advice about your travel arrangements or with any other details please contact us by email at info@aroma-tours.com as we are now on tour.
Warmest regards,
Jim and Robbi